NanoCurv Impressions Team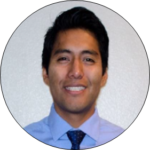 Cesar Ramales - Founder
Cesar Ramales is the Founder of NanoCurv Impressions and currently majoring in Biomedical Engineering at the University of California, Irvine. His prior experience as a researcher at Beckman Laser Institute and Supervisor at PC&VS LLC have given him the knowledge and expertise to make this company successful. He specializes in data acquisition works alongside the processing and manufacturing team to help create the most innovative medical devices. ​
Heejun Chough - Director of Global Marketing

Heejun Chough is a fourth year Material Science Engineer at the University of California, Irvine. He is a part of the business team at NanoCurv Impressions. At UCI, he is not only a student, but also a researcher — he researched the relationship between restoration types and tooth decay as part of Quantitative Percussion Diagnostic. Outside of school, he is the president of Korean-American Student Association and member of Theta Tau. With his combined academic and extracurricular experience, he will be able to carry out the necessary steps that lead NanoCurv Impressions into a successful business.
Brendon Tran - Director of Processing and Manufacturing
Brendon Tran is a senior majoring in Biomedical Engineering and part of the processing and manufacturing team. With NanoCurv Impressions, he is charged with optimizing lab protocols and improving the fabrication process. His technical background includes utilizing CAD software to create 3D models of various medical devices and working on various projects in perfecting an electrocardiography monitor. His goal is to increase production at NanoCurv Impressions.



Calvin Li - Director of Business Development
Calvin Li is in charge of business development at NanoCurv Impressions. Since joining, his responsibilities have included leading the business team by creating strategic growth plans and networking to potential investors. Calvin is currently majoring in Material Science and Engineering at the University of California, Irvine. He has prior experience working in numerous research labs and at the UCI Student Center as operations specialist. His team has worked hard to increase funding and to build relations with industry professionals for NanoCurv Impressions.


Mai Yang - Director of Cell Therapy Development
Mai Yang is the the lead engineer in cell therapy development and currently a fourth year majoring in Material Science and Engineering. At NanoCurv Impressions, she is responsible for conducting both in-vivo and in-vitro studies for the artificial cornea device. Having been a part of the Treseder Lab, she holds invaluable experience in lab preparation, sample testing, and data analysis. Moreover, she has held positions in a number of professionally-oriented organizations such as the Materials Science & Engineering Club and Phi Sigma Rho. Both her professional and extracurricular experiences has defined her into a well rounded individual.
We would like to thank our advisors for making NanoCurv Impressions possible!
Dr. Albert Yee
afyee@uci.edu
Department of Chemical Engineering and Materials Science
Junming Cai
junmingc@uci.edu
Department of Biomedical Engineering